Hannaskoog.com
påminde mig om Stella McCartneys fina bilder från sitt sommarställe. Klicka
här
för lummiga trädgårdar, John Deere-traktorer, border collies och fler hästar.
Hannaskoog.com reminded me of Stella McCartneys nice pictures from her summer recidence. You can see more here of her green gardens, John Deere tractors, Border Collies and even more horses.
När sommaren smyger sig på så blir planerna på en egen trädgård större, framförallt påminns man ständigt av avsaknaden av en mysig och alldeles egen uteplats. Funkisdrömmar i Eric Sigrid Perssons Malmökvarter
Friluftstaden
, mer ser du
här
.
When the summer finally turns up, so does my dreams of my own garden. I especially like these houses by Eric Sigfrid Persson in Friluftstaden, in Malmö. See more here.
Inte många veckor kvar till semestern nu, så det är bäst att satsa på en snygg väckarklocka. Det är ju viktigt att den fyller sin plats även om den inte används. Arne Jacobsens bordsklocka hittar du till bra pris
här
.
In a few weeks you won't need an alarm clock. So it's good that this Arne Jacobsen clock also will work as eye candy in the meantime. You'll get a good offer here.
Träskorna kommer användas flitigt (även) i år. Har ni tröttnat på klippetiklappet ännu? Följ
Garance Dorés
diskussion i frågan
här
.
I think I will wear my clogs a lot this summer. Have you grown tired of them yet? Follow Garance Dorés discussion in the matter here.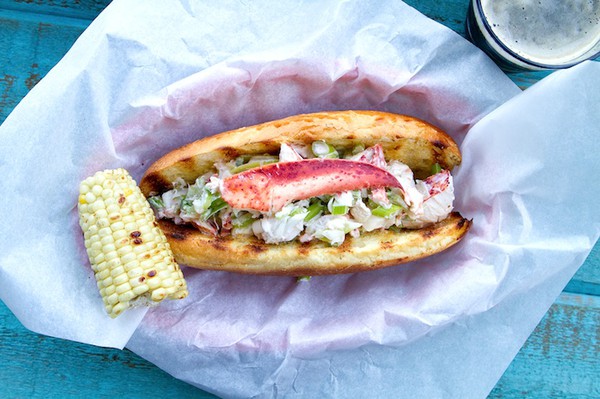 Om jag säger Lobster Roll, vad säger du då? Precis
Ed's Lobster Bar
, på Lafayette Street, NY. Så gott! Vill du spana in ännu fler mumsiga hummerställen rekommenderar jag denna
Lobster Roll-guiden
, bums! Perfekt om du ska till NY snart!
If I say Lobster Roll, what do you say? Exactly, Ed's Lobster Bar on Lafayette Street, NY. You will find even more yummy lobster bars in this guide here.
The Glitter Guide's tumblr-sida
innehåller så mycket bra grejer att de flesta bilderna åker rakt upp på min
Pinterest
. Men det blir en himla massa pinnande. Bättre att gå till källan direkt: Besök
här
.
The Glitter Guide's tumblr contains so much goodness I can't really stop pinning every picture, on Pinterest. So why not invite you to the source instead. See heaven here
.
Happy weekend!
/Hanna