Normalt sett, när
Doyoufancythis
ska presentera sina fynd, som titeln syftar på presenteras du inför en lista av helgens loppis- och secondfynd. Men inte denna gång. Jag har dragit inspiration från
Weronica från En mammas dag
och
Frida från Trendenser
, som vecka efter annan presenterar utomordentliga summeringar och reflektioner av den gångna veckans händelser, och ger er härmed mina egna tips.
Usually when Doyoufancythis writes about their favorite finds it's a list of what we thrifted and rescued from various flea markets. But not this time. In the spirit of two of my favorite blogs, Weronica from En mammas dag and Frida from Trendenser who gives us excellent summaries of the weekly highlights, I hereby present you with this weeks most important finds.
Bobedre.dk
visar en särskilt fin Malmölägenhet, där ett flertal familjer delar på ett nedlagt bryggeri. Som Malmöbo känner man igen det gröna lilla rummet på taket från promenader längs havet i Västra Hamnen. Se fler bilder
här
. Av
Hanne Vind
, foto av
Karsten Damstedt
.
I found this amazing Malmö apartment on Bobedre.dk. It's an old brewery which now houses several families. As I live in Malmö I recognize the green little room on top of the house in Västra Hamnen. By Hanne Vind, photos by Karsten Damstedt.
I somras gjorde jag ett collage som jag visade
här
. Jag blev glatt överraskad när jag upptäckte att både
Husligheter
och den amerikanska bloggen
Creatures of Comfort
har uppmärksammat idén. På
pinterest
lever
den
sitt eget liv, som sig bör.
This summer I made a college based on a quilting technique. I was pleasantly suprised when I saw that both Husligheter and the american blog Creatures of Comfort featured my idea on their blogs.
Om du, som jag finner dig med ett kylskåp utan särskilt många ingredienser kan du med hjälp av morot, timjan, lök, kycklingbuljong och grädde svänga ihop en
god morotssoppa
, från coola
Bleubird Vintages
recept. Jag gjorde den för ett par helger sedan och den blev riktigt smarrig.
If you, just like me sometimes find yourself with a fridge with only a few ingredients you can with carrot, thyme, onion, chicken stock and cream do this carrot soup from Bleubird Vintage. I tried it a few weekends ago and it was delicious.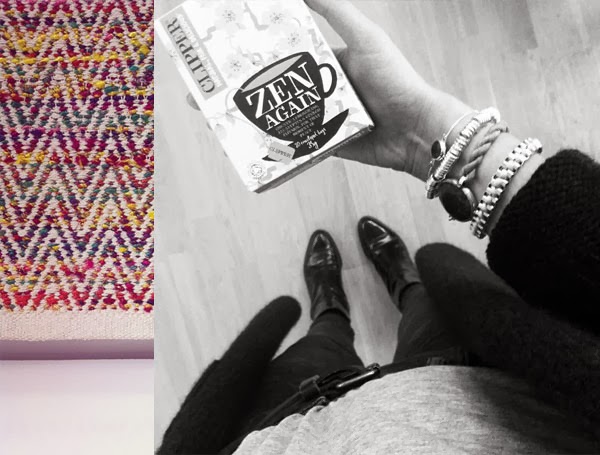 Fabriken
har kommit igång igen, efter ett kortare uppehåll.
Fabriken
är lite som bloggklubb som efter teman visar upp inspiration och fina bilder varje vecka. Jag missade torsdagens tema '
mobilbilder
' och tar ikapp genom att visa ett par här - en liten glimt av fina mattor från
Åhlens
och mitt bidrag i
Lite Kalabaliks Instagramtävling
.
Fabriken started up again, it's like a blog club where you get different themes to interpret in your own way. Last thursday the theme was 'mobile pictures' and since I didn't participate then you get my pictures now. The first one is some nicely patterned rugs from Åhlens and the second one is my addition to the Instagram contest hosted by Lite Kalabalik.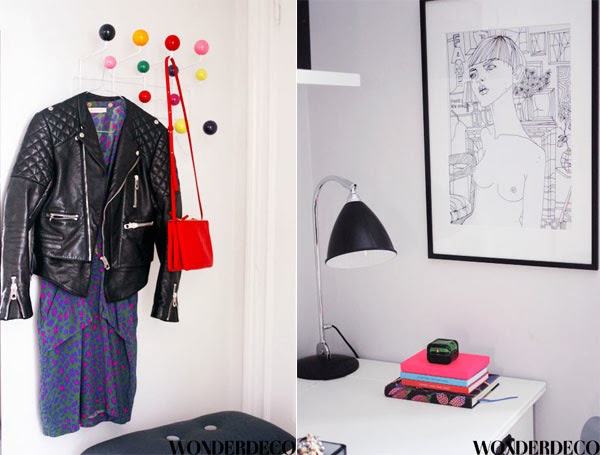 Midseason sale eller jubileumsrea?
Svenssons i Lammhult
har 10% på sitt sortiment just nu. Mer lokala
Olsson&Gerthel
firar jubileum med 15% rea. Jag spanar som vanligt på en
Hang It All med träfärgade kulor
och
en randig kudde
. Ska man slå till? Bilderna kommer från inspirerande
Wonderdeco
. Klänningen till vänster påminner om ett av mönstren från
Matthew Williamson for Lindex-kollektionen
, som du nu kan köpa med
30% rabatt
. Ha en fortsatt härlig söndag!
The midseason sales are a fact right now. Svenssons i Lammhult offers 10 % discount in their stores and online and Olsson&Gerthel gives you 15 % off right now. I'm always looking at Eames' Hang it all and maybe a striped pillow or two. The pictures are from the inpirational site Wonderdeco. And if you like the dress on the left, the Matthew Williamson for Lindex collection has something similair, which now are offering you a 30% discount on the collection. Have a great sunday!